Special Olympics Texas Unified Activities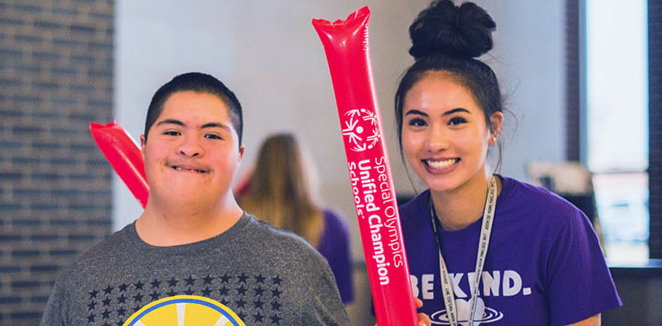 UIL Member School & SOTX Unified Champion School
UIL Member Schools who have a 2021-2022 Partnership for Inclusion form on file with Special Olympics TX will have the opportunity to compete in Unified Sports & Activities. Current Unified Sports & Activities include Unified Divisions of BEST Robotics, Unified Interscholastic Basketball and Unified Interscholastic Track & Field.
---
To find out more about becoming a Unified Champion School please contact UCSINFO@SOTX.ORG or click HERE
Unified Champion Schools® is a unique Special Olympics program in partnership with the U.S. Department of Education to promote inclusion and acceptance among students with and without intellectual disabilities.
The Unified Champion Schools® approach incorporates Unified Sports® and Unified Activities, Inclusive Youth Leadership and Whole School Engagement. The benefits of UCS include:

bully prevention,
moral intelligence,
character development,
leadership development,
physical fitness and
an increased positive school culture.

Direct download link: What is a Unified Champion School
Direct download link: Interscholastic Guidelines Resource
---
*Check out this great video made by a Frenship ISD media student documenting a year of Unified Sports at a UIL member school.
2021-2022 Unified/UIL Championship Events
Events for UIL Member Schools/Unified Champion Schools Only
Date
Location

Unified Best Robotics UIL State Championship

Dec 2022

TBA

Unified Basketball UIL State Championship

Hunstville vs Judson

State Champion - Hunstville High School

March 3, 2022
Del Valle High School

Unified Track & Field UIL State Championship

Congratulations to all of the schools who competed in the 2nd annual Unified Track & Field UIL State Championship in San Antonio last week. Copperas Cove High School won the State Championship, while Frenship High School came in second and Spring Woods High School finished third.

April 27th: 10am-2pm

University of the Incarnate Word

4301 Broadway

San Antonio, TX 78209
Unified Best Robotics Rules (coming soon)

Unified Basketball Rules (coming soon)
For more information on Special Olympics Texas Unified programming, please contact Tammy Hortenstine. You may also contact Dr. Kevin Jones at UIL for more information: kjones@uiltexas.org
---
In the news:
---
Congratulations to Hendrickson High School, Pflugerville ISD for being named a 2019 Top 5 ESPN Honor Roll Unified School! Read more...